About Us
Panks have over 160 years of experience in working with water.
Our key disciplines include dirty water, bore hole drilling, water treatment, site installations, food processing, irrigation and water features. Our team of highly trained mobile engineers offer you the highest standard of service available anywhere in East Anglia.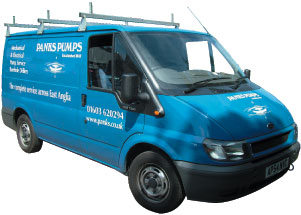 We have a 16,000 sq.ft. stores, workshop and office complex and possess unrivalled local geological data from across the region to help us provide cost effective solutions to your requirements.
Engineers
All our engineers are highly trained. Each has his own vehicle, fully kitted out for the servicing and repair of your pumps. They carry a comprehensive range of spares and new pumps for almost every eventuality. Every vehicle is fitted with its own mobile crane for lifting pumps from sumps. One visit is all it should take and with highly qualified mechanical and electrical engineers across the region we can offer a 365 24/7 service!
Scope of Operation
In a nutshell we "design and install fluid handling pumping systems and supply, repair and maintain pumps, pumping equipment and spares".
We have in-depth knowledge and experience of the food processing and chemical industries and the agriculture, sewage, leisure and water treatment marketplaces. We even have specialist electrical engineers to complement our mechanical engineering skills.
At Panks we can genuinely provide TOTAL SOLUTIONS to your fluid movement requirements not just across East Anglia but nationwide too.
Guiding Principle – Service
Service and product quality extends through all aspects of the business, from an initial enquiry through to delivery or installation. Naturally we have achieved ISO 9001 certification and excellent standards in our stance on Health and Safety – all our qualified engineers are also qualified First Aiders!
We are committed to the principle of Continuous Quality Improvement and we aim to encourage this through our methods of operation, management and customer liaison. The only judges of quality are our customers who expect the highest standards of reliability and effectiveness of our products and services.
We will continue to strive for excellence!
To apply for a Credit Account, please download this form, complete with your details and return to our head office, either by post or e-mail to accounts@panks.co.uk.